BIG DEVON BREAKFAST for FORCE
This was a well supported,successful event in 2017 and raised a considerable amount for the Charity. You can be sure we are already planning a similar event for 2018. Check back here regularly, information will be posted as soon as it becomes available.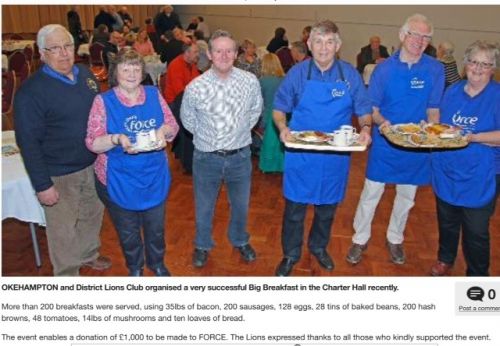 ---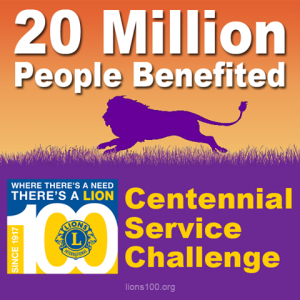 Last year, Lion Clubs set a goal to help 100 million people in celebration of our Centennial in 2017.
We're happy to announce that Lions have helped 20 million people worldwide in the first six months of the challenge.
That means we're on our way to achieving our goal thanks to the incredible support Lions get from members of their communities, like you!
Great things happen when Lions work together for the benefit of their communities and the world. From the Centennial Service Challenge to the Lions Worldwide Week of Service in January, Lions everywhere are coming together to serve and celebrate Lion Club's International 100th anniversary.
We're off to a great start, but we still have a way to go. We hope you'll keep supporting your local Lions Club and their Centennial Service Challenge. Visit Lions100.org for more info about Lions Centennial service projects today.
Remember, when Lions come together to serve, we can change the world!